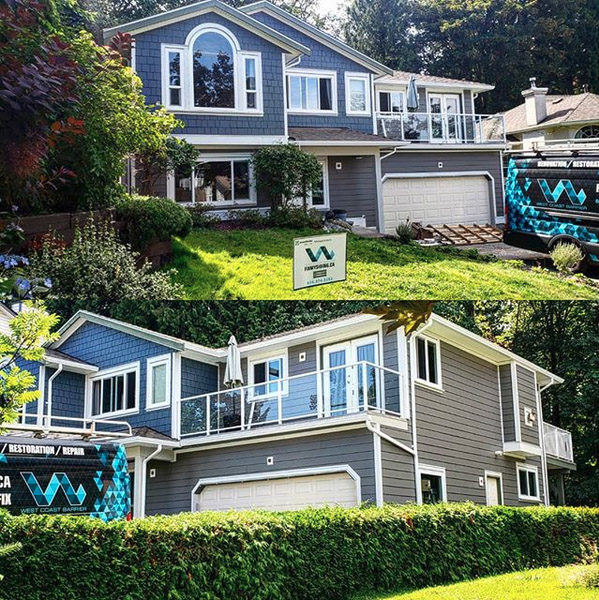 James Hardie Vinyl Siding Repair, Walnut Grove, Langley, BC, Portfolio 2
This client contacted us because water was entering the home / getting past the moisture barrier through an upper window. It's good that they called us because left unchecked, it causes some nasty, expensive issues, namely, wet rot. Now, technically this problem's a water ingress through the upper window due to a failed wall transition on front elevation. We'll simply call this water damage due to poor installation for the sake of simplicity. How we solved the problem: We sat down with the client and had a lengthy discussion on what they can do to re-mediate the issue.
What we came up with was an easy and affordable fix. Given their options, the clients decided to move forward with a complete envelope restoration with Rainscreen System so that they could ensure no future problems would arise. They chose to go with James Hardie 8.25" ColorPlus in Aged Pewter. and Evening Blue Hardie Shake along with James Hardie Arctic White accent trims throughout. We also replaced the front entry support post, built out the beams to make them uniform, and wrapped both with comb face fascia trims,.
We finished this vinyl repair project off with WoodTones Real Soffit in Texas Honey Brown T&G to complete the transformation. We're (and they're) proud that they've been routinely approached by neighbours and passersby who comment on what an incredibly beautiful difference this exterior siding renovation and restoration has made to their home.