Why is Hardie Siding right for you?
When it's come time to consider your home exterior renovation, choosing the right type of siding for your project is crucial.
An Exterior Renovation is a major project, and thus one of the more costly expenditures you're likely to face, therefore taking careful consideration of HOW your money is paramount.
Whenever I'm asked by a client, what type of siding they should use, I always refer them to James Hardie Building Products. James Hardie has stood the test of time, it's durability and performance is unmatched, and it's beauty is timeless.
In fact, both James Hardie siding and trim are Engineered for Climate®, so no matter where you live, you can rest assured that your investment is going to stand up to Mother Nature.
James Hardie siding vs vinyl siding
There are so many reasons to choose James Hardie siding over vinyl, the first of which is its cosmetic appearance. James Hardie siding is more than 500% thicker than vinyl siding, accommodating deeper grooves and a much more realistic wood-grain appearance. This results in a more beautiful finish than vinyl siding, particularly on a heritage home. Next comes function. Vinyl siding offers no additional protection from fire and easily melts away (or even from the reflection of the sun off Low-E glass windows); James Hardie products on the other hand are noncombustible and carry a Flame Spread rating of 0 . Vinyl siding, over time, becomes brittle, cracks and warps from the continual exposure to the elements while James Hardie products are much more durable, resist warping, sagging and melting!
James hardie siding vs wood siding
James Hardie siding is not only much less expensive than wood over its lifetime, it won't be degraded by bugs or animals. It also resists water absorption better than wood even where the manufacturer's recommended protections are followed, helping protect against mold. When there's a fire, James Hardie siding is much better at withstanding damage, while wood goes up in flames. James Hardie siding and trim products provide considerably more protection against the wet and sub zero weather conditions as well as hot & humid weather, than wood.
Where wood will split, crack and degrade over time, James Hardie siding resists the damage the elements bring and keeps its condition over much greater span of time, requiring less maintenance year over year, saving you both TIME and MONEY!
#1 Return on investment
Siding with fibre cement is the smartest investment you can make for your home.
Even smarter? Choosing fibre cement from the industry leader. That's why the professionals choose James Hardie siding and trim.
Fibre cement: the best choice
Year over year, Remodeling magazine has ranked siding with fibre cement the NUMBER 1 return on investment when compared with other home renovation projects.
COST VS VALUE RANKING
Remodeling Magazine annually compares the average cost of the most popular renovation projects with the value those projects retain at resale in 101 U.S. cities. Year after year, exterior siding replacement with fibre cement, like James Hardie offers the maximum Return On Investment at point of sale!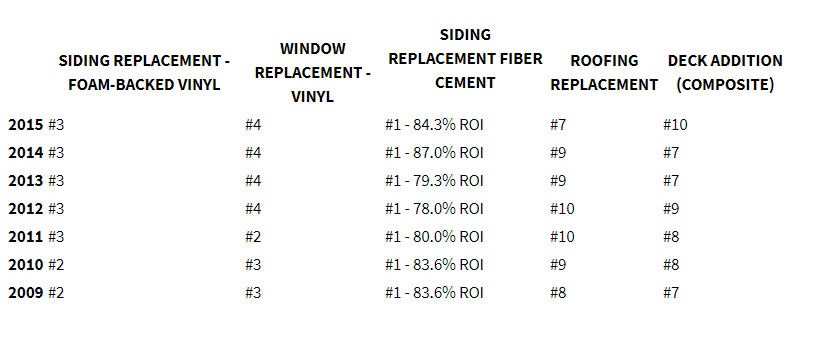 Fiber cement siding replacement is the highest percentage of cost recouped for projects in the 'upscale' category. Complete data from the Remodeling 2014-2015 Cost vs. Value Report is available at www.costvsvalue.com
Can't beat the benefits
The ROI on siding your home with fibre cement is 25 percent higher than that if you were to add a bathroom. Why not begin with a renovation that gives you the most bang for the buck?
The value of siding with James Hardie lie in the highest quality of their products. They beat their competitors in every available siding benchmark
Siding your home with fibre cement nets an 10% greater return than vinyl window replacement and a 25% greater ROI than a kitchen renovation or roof replacement.
The best lifetime value
You want to ensure you're using the best available products when you choose to renew your homes exterior. James Hardie INVENTED fibre cement and still today, remains the leader in the field. Here's what you'll get when you choose to go with James Hardie siding and trim.
Cost savings
Fibre cement costs less than wood over their lifetime, doesn't attract pests, and resists water absorption to help protect against mold, swelling and cracking—giving you more value for your money.
Region specific
James Hardie is the only siding manufacturerengineering siding products for specific climates, ensuring that you get the best possible performance.
Factory finished
Baked-on ColorPlus® Technology is resistant to fading, chipping and cracking, meaning less maintenance over the years, leaving more time and money for you.
Lower insurance
Since fibre cement siding (unlike vinyl siding) is non-combustible and hail-damage resistant, it may help lower your home insurance premiums.
Fantastic warranties
All James Hardie siding products are covered by a 30-year, non-prorated warranty and trim products come with a 15-year, non-prorated warranty